8/31/09

Hi guys, the first post in this community is out-dated.
Anime Club is now planning to meet at FRIDAYS 8-10PM, and a room has not been decided yet.
Welcome to the 2008-2009 session of the Anime Club at UCSB:D
Feel free to give us feedback so we can make a better experience for everyone!
Because we're a school club, we're unfortunately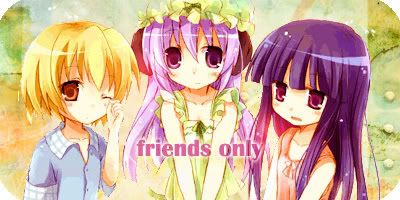 Comment here with the answer to the question on the profile and make sure you're logged into lj when you do it.
We will add you as soon as we confirm you're actually from this area.
REMINDER: We are in Room Phelps 1425 (Fall Quarter) every week on Tuesday from 8PM - 10PM!
Schedule of Fall Events:
October 14: Membership Cards due (discount price)
October 21: Submissions for Club Logo and T-shirt Designs due
October 28: Special Halloween meeting/ Party/ Club Raffle
November 15: Little Tokyo/ Chinatown trip
If you have questions, please PM moderators
maka_taichou
,
ansibs
,
krixe
, or
rasenth
. Thanks for attending, and we hope to see you at the next meeting!
Hello Everyone! \o/
Current Location:

meeting room

Current Mood:

happy

Current Music:

natsume yuujinchou